EV Charger Adapter 220V - 240V NEMA 10-30P/14-50R
Regular price
$24.99
Sale price
$39.99
Unit price
per
sale
Liquid error (snippets/pdp-images line 24): Could not find asset snippets/icon-zoom.liquid Enlarge
EV Charger Adapter 220V - 240V NEMA 10-30P/14-50R
Regular price
$24.99
Sale price
$39.99
Unit price
per
sale
Splitvolt offers a 30-day money back guarantee and free shipping in the continental US.
The Adapter Cable is flexible and convenient for EV charging and dryer
If used for EV charging, you must manually restrict the charging rate to 24 amps 

(5.7kW)

Superior 100% copper conductivity with male (NEMA 10-30) / female (NEMA 14-50) connectors, 10AWG wire for safety

Rated for 30A circuits, 125/250VAC, and 24 Amp (5.7kW) maximum continuous charging rate

Durable, heat resistant construction providing protection from wear and elements
Made with quality components

Not for use with Recreational Vehicles (RV)
1 Year Manufacturer's Limited Warranty included
Learn More
The Splitvolt Adapter
Splitvolt 220V - 240V Adapters enable you to easily connect an EV charger, or other appliance, with various common NEMA plug and outlet types.
For safety when using adapters, special care must be taken to ensure you restrict EV charging rates to stay within 24 amps according to the National Electrical Code (NEC) for standard 30 amp circuits.
Splitvolt adapters are made with quality components with durable and heat resistant construction for longevity. They support various NEMA plug and receptacle types.
How the Adapter Works
The Splitvolt EV adapter enables the flexibility to connect an EV charger equipped with a NEMA 10-30 interface to a modern NEMA 14-50 wall outlet.
| | |
| --- | --- |
| Length | 1 foot 7 inches (0.5 meters) |
| Product Weight | 1.7 lbs (0.77 kgs) |
| Interfaces | Male NEMA 10-30P and Female NEMA 14-50R |
| Cable type | STW Service - Elastomer & oil resistant jacket |
| Color | Black |
| Wire Gauge | 10AWG |
| Wire Diameter | 3.264mm per solid conductor |
| Wire Crossectional Diameter | 8.367mm squared |
| Package Dimensions | 9.8 x 7.9 x 2.8 inches |
| Package Weight | 2.1 lbs (0.95 kgs) |
Recommended Products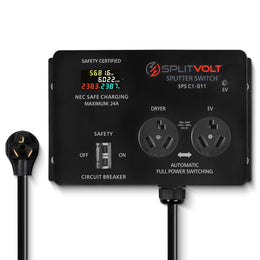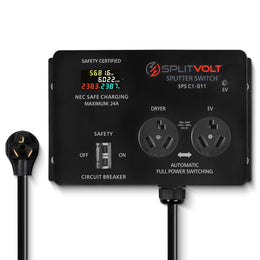 sale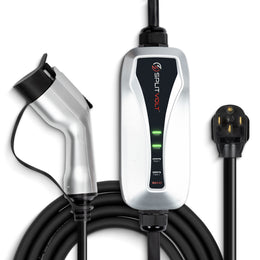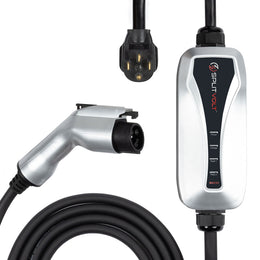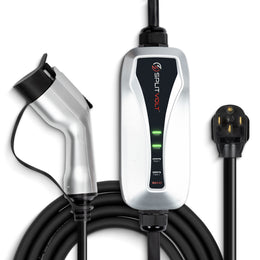 sale