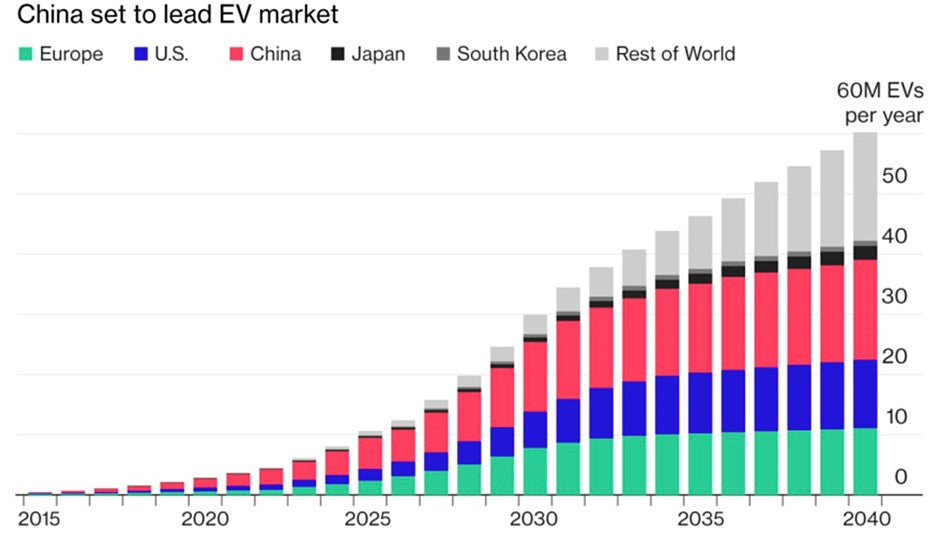 October 24, 2019
EV Market Growth – A Reality Check

EV Market Growth - A Reality Check
The EV market is still quite new and shows a lot of future growth potential. However, there's been a fair amount of negative press recently about the EV market, and its growth path. The negative sentiment centers around predicted changes in the Chinese market and Tesla's financials. However, it's worth stopping for a moment to quiet the noise and look behind the headline hype to assess what the real story is; let's take a reality check.
CHINA
Media Headline: China Facing Reduction in EV Growth
The growth of the EV marketplace in China has been staggering. There are over two dozen aggressive start-ups in the Chinese EV manufacturing sphere. This includes well-known names such as Nio and Xpeng. Collectively, they raised over $10 billion in funding over the last few years to finance their plans.
But industry support is not just coming from the private sector. The EV market in China has also been fostered by large government subsidies.  Combined, this support has helped push the EV market to a growth rate of around 60% year-on-year.  As of 2019, these subsidies now gradually being wound back. It's now forecast that EV market growth may settle down to a rate closer to 20% annual compound growth rate (ACGR). However, this still a quite remarkable figure! Such a contraction will likely bring about the demise of less profitable Chinese EV manufacturers.  However, it will also help ensure that the more efficient producers prevail.
Some Growing Pains in China
These 'growing pains' for the Chinese EV market are real and will have a negative impact on additional future investment. Against that backdrop, however, there's certainly good reason to be optimistic. China is the largest automobile marketplace in the world, with 23 million vehicles sold in 2018. Of this figure, nearly 1.2 million (5.2%) were EVs. China also has a growing middle class who has never owned a car, but aspire to do so. It's likely that for many of these potential new car owners, their very first car will be an EV.
So, while the hype of the China EV marketplace may well have got a bit ahead of itself, there is still potential for massive additional growth over the next few years. Additionally, the Chinese government wants to reduce air pollution.  This is due to health problems and a good deal of national embarrassment—in Chinese cities. In this arena, Chinese EV manufacturers producing all manner of electric vehicles, from small cars to large trucks and busses, have an important role to play.
Media Headline: Tesla in Financial Trouble
In the United States, the electric car marketplace—and the media—has been dominated by Elon Musk and his EV manufacturing company, Tesla. It's undeniable that Tesla makes some amazing cars, such as the Model S and the Model 3, however, the press has largely focused in recent years on the finances of Tesla, rather than the cars themselves.
In some ways, this is not surprising when you consider that Tesla has lost over US$6 billion since its inception. However, Tesla is investing in manufacturing capability to facilitate its long-term position in a cutting-edge industry, so it's a mistake—and somewhat shortsighted—to judge the business solely by its quarter-on-quarter profit figures.
There is good reason for optimism about EV market growth driven by Tesla. Its newest offering, the Model 3, has been wildly successful; in Q3 2019, Tesla shipped over 79,000 of them. Tesla has also just completed its so-called 'Giga Factory' in Shanghai, China. This facility will deliver more than 250,000 vehicles annually, at a much higher margin than those produced in the USA. In time it's quite possible that Tesla will have great profit figures to showcase alongside its great cars!
Media Headline: EV Market Growth Slowing
Over 2 million electric vehicles were sold in 2018, up from just a few thousand in 2010. We expect annual passenger EV sales to rise to 10 million by 2025 and 28 million by 2030. By 2040 we expect that 57% of all passenger vehicles will be electric.Bloomberg NEF   —   Electric Vehicle Outlook 2019
Bloomberg NEF EV Growth Forecast
Against this backdrop of negative reporting are strong market growth figures from respected research companies—figures indicating there's every reason to expect that the rise of the electric vehicle will be both rapid and enduring. In a recent major EV study, the respected Bloomberg NEF noted the following, "Sales of EVs were over 2 million units in 2018, up from just a few thousand in 2010. We expect annual passenger EV sales to rise to 10 million by 2025 and 28 million by 2030. By 2040 we expect that 57% of all passenger vehicles will be electric."
Acumen Research & Consulting Growth Forecast
According to Acumen Research and Consulting, "We expect the global electric vehicle market will grow at CAGR 25.6% during the forecast period, 2019-2026 and will reach over USD 568.2 Billion by 2026"
Factors Driving EV Growth
There are a number of factors driving this rapid uptake in EV sales, from improved battery technology and environmental compliance, to consumer demand and regulatory pressures finally bringing the big combustion engine car manufacturers firmly into the EV industry.
Better and Cheaper Batteries
Battery density has been increasing while battery cost has been falling. This has made it possible to introduce EVs, like the Tesla Model 3 and the Chevy Bolt, that have ranges in excess of 250 miles, with a purchase price similar to a standard internal combustion engine car.
 Governments across the world are looking to reduce global emissions of greenhouse gases.  According to the US EPA, transportation is the single biggest, accounting for 28.9% of greenhouse gas emission in the US. Clearly, the more EVs on the road, the smaller impact the transportation sector will have on greenhouse gas emissions. Governments here in the US, as well as in Europe and Asia, are constantly tightening the emissions regulations, leading vehicle manufacturers to favor the EV sector for the sustainability of their businesses.
EV production in Europe is about to explode. According to Transport and Environment (Europe) the number of EV and PHEV models available in Europe will almost triple from just 60 in 2018, to 176 models in 2020, and predicted to increase to 333 by 2025. The Transport and Environment body attributes this amazing growth to the mandatory EU CO2 target of 95g/km which commences in 2021.
Rise of the Traditional Auto Manufacturers
Prior to 2018, the EV marketplace was largely the province of 'startups' such as Tesla, and a host of Chinese competitors. However, in 2019, traditional automobile manufacturers are also staking the future of their businesses on EV production as evidenced by the following announcements.
Ford

 

are gearing up

 

to unveil their new 'Mustang Inspired' EV

 

next month. They also announced they've entered into a partnership with Electrify America to enable Ford EV customers access to a broad network of public chargers. According to Ford, "All-electric vehicles will also come standard with a Ford Mobile Charger. It's capable of charging on a higher-voltage 240-volt electrical outlet often used for large household appliances like a clothes dryer, which can add an estimated range of 22 miles per charging hour."
Hyundai

 

Motor Co. pledged to

 

boost annual sales of EVs

 

to over half a million units by 2025. This is part of a bid to focus on new technologies and catch up with rivals.
The EV marketplace has gone through a dramatic growth phase in the last decade: (virtually) zero to giant in just ten years. Leading EV manufacturers have shown electric-powered vehicles can perform amazing feats—not just in terms of fuel economy, but also in terms of raw performance, as well. Government and auto industries across the globe are committed to the continued development of the sector, particularly with the key role EVs play in reducing overall greenhouse emissions.  The future of EVs looks very bright indeed!